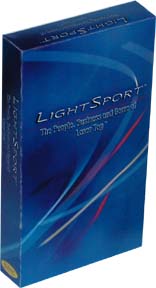 Laser Tag, the generic name for live action games played with electronic sensors and equipment began as a commercial venture in Dallas, Texas. There, the first PHOTON store opened in 1984 helping George Carter, III bring laser battles from the movie STAR WARS to life.
Today, people are still playing PHOTON and over 20 other brands of laser tag. Around the world, laser tag has touched people's lives from the casual player or birthday party participant to the sport-minded tournament superstar. Toy companies have even introduced home versions of the game allowing enthusiasts to play anywhere, anytime.
LightSport™ The People, Business and Game of Laser Tag™ is a 94 minute documentary covering the industry. It includes interviews with long time players, store managers, facility owners, franchisees, equipment distributors, the executive director of the International Laser Tag Association and even George Carter, III - creator of PHOTON.
Shot at tournaments across the United States (XP LaserSport, Armageddon 2000, & Allied Taggers Association) the program also includes footage from Prague, Czech Republic, Reykjavik, Iceland and even Tokyo, Japan. This unique video encompasses the initial creation and almost complete demise of PHOTON to the current state of this exciting industry. In addition, we've interviewed outdoor taggers! The 2001 East Coast Tag Con champions are here!
Think you know laser tag? Perhaps you're the best in your town? Maybe you work at, own or manage a successful center? There's a whole wide world of laser tag out there, and this video explores it. Game or sport? What's the future of the industry? LightSport™ The People, Business and Game of Laser Tag™ posed these questions and more to the most influential people in laser tag.